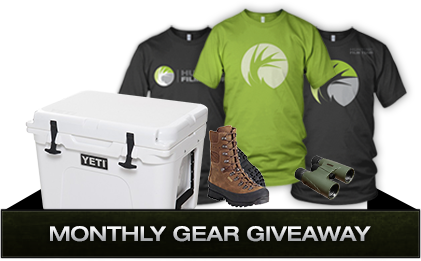 At the Hunting Film Tour we love to share our Sponsor Swag and give cool stuff away. After all, that's what it's all about… meeting cool people, making new friends and having fun! Want a chance at some free gear? It's pretty easy to enter the monthly giveaway:
It's that simple. The winners will be drawn the 1st of each month and be announced on Facebook. I look forward to dropping some of you a line to let you know you should be expecting a package in the mail.
I look forward to meeting you at the shows!
Gary Gillett
Prizes
Kenetrek Insole & Kenetrek T-Shirt
Costa Hat & Keepers
Sitka Dew Point Jacket & Sitka Hat
Vortex Beanie & Vortex T-Shirt
Smith Hat & Sitka T-Shirt
Sitka Hat & Sitka T-Shirt
Kenetrek Hunting Gaiters & Costa Keeper
Vortex Hat & Vortex Hoodie
Vortex Beenie & Kenetrek T-Shirt & Costa Keeper
Vortex Hoodie & Costa Keeper
Kenetrek Insoles & Kenetrek T-Shirt
Sitka T-Shirt & Sitka Bow Hooks

---
Mountain Man Sweepstakes
The Mountain Man Sweepstakes are the Tour's ultimate Grand Prize! Each one of our sponsors has provided a premium item that when rolled up make one heck of bundle of gear. There is only one way to enter, you have to come out and enjoy an evening WITH US at an HFT event! During the preshow seating and at intermission, we have sweepstakes cards everyone in the audience is invited to fill out and drop in the YETI's on the corner of the stage. Not only are you entered to be drawn for the sweet giveaways during the show, but also for the Grand Prize draw at the end of the Tour!
The prize pack includes:
A Kimber Mountain Ascent Rifle
A gift certificate for Kenetrek Mountain Extreme boots
A YETI Cooler
A pair of Vortex 10X42 Razor HD Binoculars
Sitka Gear
Smith Elite Glasses
A Boone & Crockett Club Membership
One Year Huntin' Fool Membership & Application Services